Winter Tree Pruning: Why You Should Hire A Certified Arborist
At Carrington Lawn & Landscape, we do an awful lot of talking with our customers about summer tree pruning & tree care. While we're buried in snow, it's not always intuitive to consider what's happening in our yards. Cold weather tree care helps maintain the safety & appearance of your trees and can be crucial timing for overall tree health.
Tree pruning by a Certified Arborist ensures the task is done right. Proper tree pruning is done with a unique combination of skill and artistry that can't be duplicated by untrained workers. We've seen pretty weeping cherry & crab apple trees hacked into mushroom shapes & glorious oak trees fall susceptible to debilitating disease from improper pruning techniques.
Carrington Lawn & Landscape employs an ISA Certified Arborist who is passionate about his work and dedicated to continuing education.
Click here to view a list of tree care services offered.
Reasons to choose a Certified Arborist for your tree care:
Proper technique ensures continued vigor & longevity
Precise timing is determined by species, growth habits, bloom time & current health
Well cared-for trees are more attractive & contribute to the value of your property
Poorly maintained trees can be a liability and create safety hazards for your home and your loved ones
Tree work can be dangerous; trained and experienced professionals greatly reduce risk of injury & property damage
While onsite, a Certified Arborist can be proactive about potential hazards, issues, infestations or diseases before it's too late or more costly to remedy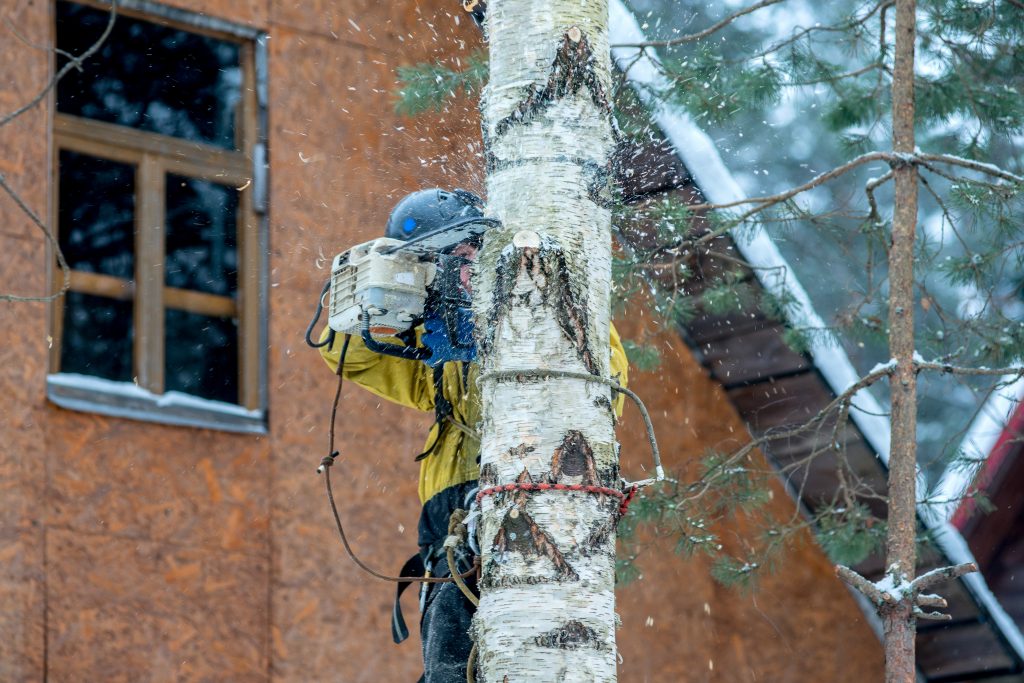 Why cold weather tree pruning & removal is smart:
Less Stressful for Your Trees | Pruning trees during the active growing season can cause unnecessary stress. Aggressive spring pruning can weaken a tree by limiting its ability to produce food. Likewise pruning late in the growing season might cause growth that will not have time to mature before winter. Since deciduous trees go dormant during the winter, pruning at this time will not interrupt the growth cycle.
Prevents Disease | Plant diseases are typically spread by bacteria, parasites, insects, and fungi that cannot survive during the winter months: plant diseases are less likely to be spread by tree work done in the winter. Crab apple and pear trees are good candidates for winter pruning since they're highly susceptible to fire blight during the growing season.
Convenience & Cost | With all of the other demands from your landscape, why not take tree removal and pruning off of your summer to-do list? Often, winter tree work can be less expensive due to lower workloads and less foliage to cleanup and dispose. Frozen ground is ideal for homeowners looking to preserve the integrity of their turf.
Increases Safety | Wind, ice, and snow make damaged, weak or dying trees a dangerous liability. Winter pruning is good insurance against the next snow, ice or windstorm.
Skilled tree care is an investment that can lead to substantial returns.  Well cared-for trees are attractive and can add considerable property value.
Click here to contact our Certified Arborist today for more information.