Professional Hardscaping
Patios and Walkways
Pavers
Concrete patio pavers offer many advantages over other paving systems, including poured concrete and asphalt. Pavers provide versatility in design through color, pattern, texture, and finish. Pavers are installed over a flexible base and will not crack at the surface, as with concrete or asphalt. Long-term maintenance is relatively low, and even old patios can be easily restored to look like new again.
Every one of our paver installations meets or exceeds the industry-standard Interlocking Concrete Paver Institute (ICPI) specifications. We maximize durability by using the proper equipment and by installing the highest quality, industry-tested products. We install pavers on all scales from walkways to driveways.
Natural Flagstone
Develop an organic concept with simple beauty of natural flagstone. No two pieces of stone are the same, so each project is unique and customized. Choose from a wide variety of stone colors, textures and sizes to create a new look, or match the existing stone in other elements of your landscape.
 Permeable Paver Applications
With an increased need for storm water management, the applications of permeable pavers are more prevalent than ever before. Permeable pavers offer solutions to environmental concerns such as water harvesting and reducing impermeable surfaces. They are also an option for certain drainage correction issues. Developments in technology and the green industry have made permeable pavers an accessible, affordable option. Contact us  for a free consultation to learn if permeable pavers could be the right option for you.
Crushed Aggregate Surfaces
Occasionally a project's design and/or budget, calls for a simple solution to improve circulation throughout a site. Compacted aggregates such as crushed limestone or decomposed granite can be a versatile, affordable way to increase the function of your outdoor space.
Walls
Modular Block
This material offers a wide variety of color, shape and texture options for various applications from simple, freestanding garden seat walls to engineer, and load-bearing retaining walls. No single wall product is right for every application so contact us to find out which is best for your project.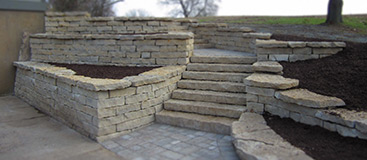 Snapped Wall Stone
Snapped wall stone is a great way to integrate a functional, organic feel into your hardscape and landscape design. Like natural flagstone, snapped wall stone offers variety of colors, textures and sizes for unique versatility in landscape installations. Contact us to learn if snapped stonewalls have a place in your landscape.
Boulders
Boulder retaining walls are a cost-effective and reliable means of wall construction. Granite fieldstone boulders, limestone boulders and outcropping stones comprise the most common boulder wall materials. Accent boulders can also provide a unique feature in any landscape. We take measures to ensure that our walls are constructed to the highest quality by considering wall surcharge and the potential need for free-draining backfill, geotextile and buried drainage. Contact us for a consultation to learn more.
 Steps/Stairs/Stoops
The installation of stairs, steps and stoops provide safe and inviting access to any home or outdoor space. These hardscaping elements can be constructed from both natural and modular products to fit the design characteristics/guidelines of any landscape. Custom handrails or low voltage landscape lighting fixtures can be integrated into the design of these components to enhance safety and functionality of your landscape. Contact us to set up a consultation to learn more about these features.
Features
Fire Pits
Fire naturally draws people together. Whether for functional purposes like cooking or warmth, or for aesthetic purposes, we can design and install the perfect fire pit for your outdoor gathering. We offer a variety of installation options, including wood-burning and natural gas pits.
Outdoor Living Spaces 
Outdoor living is a growing trend, and for good reason. Increase the value and function of your home by expanding your living space to the outdoors. Outdoor kitchens can be constructed to include features like built in grills (natural gas or charcoal), wood-fired pizza ovens, sinks, prep space, storage, and dining space. Outdoor Living rooms can include natural and gas fire pits/places, water features, and a variety of seating space options. Let us help you bring your living space outdoors to enjoy the comforts of home amongst the natural environment. Contact us for a free consultation to discuss ideas for your property.