Tree & Shrub Care
We offer complete tree & shrub care programs as well as trimming and pruning. Our knowledgeable certified applicators customize every program to give your landscape plantings the most appropriate care. Diagnosis is done by an ISA Certified Arborist and standing behind our applications is part of our service. Our treatments offer both preventative control to avoid infestations from starting and curative control for existing pest and disease problems. We provide both direct trunk injections and deep root injections depending on what will best target the desired result.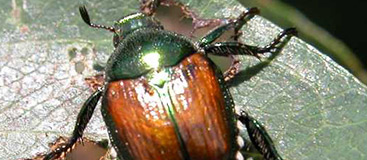 Disease and Insect Control & Diagnosis
Your total problem potential is addressed when diagnosing the solution for any infestation or disease and we always encourage long term control and prevention. For instance, Japanese and May/June Beetles are the adult form of grubs often harboring themselves in the base of your lawn. They tend to feed close to home when they become airborne making your tasty shrubs extremely convenient. If your shrubs are getting attacked, your lawn also needs to be diagnosed for a grub problem. Our goal is to treat beyond the existing problem and also prevent it from happening again.

Our standard insect and disease program consists of four topical spray applications per season to protect against diseases and insects. Typically, we also deep root fertilize in the Fall to help plants get through the harsh winter and thrive the next Spring.
We also offer systemic protection against insects. Depending on the most effective means of treatment, we will customize program specific to your property's trees. We use Arborjet, Wedgle Direct Inject System, Deep Root Injection and soil drenches as methods of providing the most effective type of control in a specific environment.
Emerald Ash Borer
EAB treatments are the only way to prevent the inevitable demise of all Ash trees in the Dane County area. First discovered here in the Fall of 2013, EAB is here to stay and early protection before infestation is the only way to ensure your Ash trees will resist the insect and certain death. All of our treatments are done by an ISA Certified Arborist and provide two years of protection. Contact us to learn more about how our disease and insect control services can help you protect your landscape investments.
Ornamental Shrub Pruning
We view our ornamental landscape plant pruning as an art. We prune to meet individual property owners specific desires. Contemporary shape pruning is done for crisp perfection of shapes while Natural hand pruning encourages a more traditional and organic growth pattern.
Rejuvenation pruning can be done at most any time of year. From neglected shrubs that need to be reclaimed for either aesthetics or functionality of space to simply increasing the number of blooms your flowering shrubs will burst with the following Spring, we will maximize the present and future growth allowing your ornamentals to look their best.

Tree Pruning & Removal
Trees are no different than other landscape plantings. They need maintenance pruning to look their best and grow in the way they were intended to upon original planting. Our ISA Certified Arborist will diagnose what your trees need and draft a program to help them thrive. Whether they could benefit from our tree cutting service or our insect control service, we know what it takes to keep your trees healthy and looking vibrant.
When a tree becomes unsafe or not desirable, we offer tree removal as well as stump grinding services.

Tree & Shrub Services:
Disease and Insect Control & Diagnostics

Deep Root Fertilizer & Systemic Injections
Trunk Injection Systemic Injections
Corrective Pruning and Rejuvenation
Natural and Shape Ornamental Pruning
Certified Arborist Property Consultations
Debris Chipping
Tree Removal Service
Stump Grinding